Pinterest & your business - step back
Pinterest - the latest social media buzz word. 
If you are a business person, trying to stay involved and up-to-date with social media, you may have been hearing about the new uber-popular site and wondering what it's all about. 
Pinterest is essentially a collection of online idea/inspiration boards. It's a bookmarking tool where users "pin" items they found online and think are particularly beautiful, unique or useful. The "pins" are displayed on their various boards, broken up into different categories for all of their followers to see. Some popular board categories are DIY, things for the home and favorite places. 
Pinterest is all about the visual. 
(You guessed it. The majority of users, at an overwhelming 97%, are women.)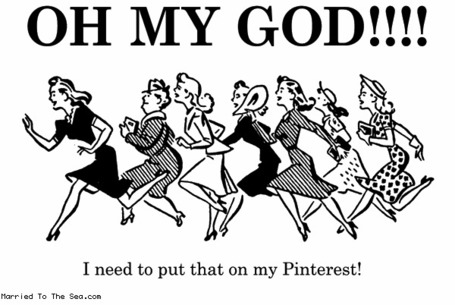 SO what if your business has nothing to do with DIY crafting, hip interior design or  vegeterian-friendly recipes…why should you care? Maybe Pinterest doesn't need your attention. BUT…
They hit the 10 million unique monthly visitors mark faster than ANY independent site in history.
Now, they're at nearly 12 million.
Daily users have increased more than 145% since the start of 2012 (TWO MONTHS, for those who need a little help with the math).
Side note: they've accomplished all of this with only a 12-person staff. Now that deserves a "hats off."
———-
SO. Maybe that info got your attention. But the point of this post is not to urge you to join Pinterest. The point of the post is to get you to take a look at this potentially lucrative platform and decide if it fits in with your company and its goals.
Take a look at Mashable's profile, below. They've got boards dedicated to "Tips and Tricks," "Web Humor" and "Infographics." Things that directly correlate to the purpose of the company that they can communicate in a visually appealing way. Things that consumers may find useful and interesting. 
For companies like Mashable, who seem to have a good handle on what Pinterest is all about, they're probably going to reap benefits from this. 
But, as I said before…don't get excited and create a profile just because Pinterest is pretty and popular. Think about this.
Do you sell tires? Don't join Pinterest and "pin" 524 images of tires and links to your website. No one on Pinterest is interested. Do you own a flower shop? Pinterest could be perfect for you to show off unique flower arrangements and aggregate different sources of advice for gardeners and flower lovers. 
Think Pinterest is for you? Click here, request an invite (yep, it's invitation only) OR login immediately with your Facebook or Twitter. 
Happy Pinning!
-Gabby, Editor at Source Media. 
amikewatson likes this
prcaffeine posted this
---