Did you know?
Multitasking may actually be hindering your success in business (or personal).
The Clincher:
Research has found that interrupting your mental flow by doing something like checking your e-mail while you are performing a creative project is actually lowering your IQ by as much as 10 points!
That's the same as not sleeping for 36 hours, and is twice as bad for your brain as smoking Marijuana. 
Think about that for a second. 
-Gabby, 
---
Pinterest & your business - step back
Pinterest - the latest social media buzz word. 
If you are a business person, trying to stay involved and up-to-date with social media, you may have been hearing about the new uber-popular site and wondering what it's all about. 
Pinterest is essentially a collection of online idea/inspiration boards. It's a bookmarking tool where users "pin" items they found online and think are particularly beautiful, unique or useful. The "pins" are displayed on their various boards, broken up into different categories for all of their followers to see. Some popular board categories are DIY, things for the home and favorite places. 
Pinterest is all about the visual. 
(You guessed it. The majority of users, at an overwhelming 97%, are women.)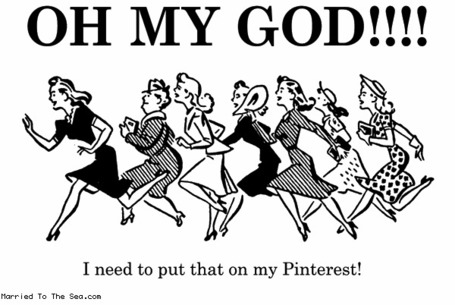 SO what if your business has nothing to do with DIY crafting, hip interior design or  vegeterian-friendly recipes…why should you care? Maybe Pinterest doesn't need your attention. BUT…
They hit the 10 million unique monthly visitors mark faster than ANY independent site in history.
Now, they're at nearly 12 million.
Daily users have increased more than 145% since the start of 2012 (TWO MONTHS, for those who need a little help with the math).
Side note: they've accomplished all of this with only a 12-person staff. Now that deserves a "hats off."
———-
SO. Maybe that info got your attention. But the point of this post is not to urge you to join Pinterest. The point of the post is to get you to take a look at this potentially lucrative platform and decide if it fits in with your company and its goals.
Take a look at Mashable's profile, below. They've got boards dedicated to "Tips and Tricks," "Web Humor" and "Infographics." Things that directly correlate to the purpose of the company that they can communicate in a visually appealing way. Things that consumers may find useful and interesting. 
For companies like Mashable, who seem to have a good handle on what Pinterest is all about, they're probably going to reap benefits from this. 
But, as I said before…don't get excited and create a profile just because Pinterest is pretty and popular. Think about this.
Do you sell tires? Don't join Pinterest and "pin" 524 images of tires and links to your website. No one on Pinterest is interested. Do you own a flower shop? Pinterest could be perfect for you to show off unique flower arrangements and aggregate different sources of advice for gardeners and flower lovers. 
Think Pinterest is for you? Click here, request an invite (yep, it's invitation only) OR login immediately with your Facebook or Twitter. 
Happy Pinning!
-Gabby, Editor at Source Media. 
---
E-mail marketing slump - CURE
[E-mail is a fairly simple way of spreading news and promotions to your customers, especially if you don't have time for much else. But, is it even working? As far as you can tell, there hasn't been much tangible ROI. Some of your contacts are unsubscribing and others aren't even opening the e-mails. So how do you keep them interested? Or do you stop altogether?]

Don't let anyone tell you e-mail is dead. It's not. 
However, with the overflow of spam in your subscribers' inboxes, you need to work a little harder to grab and maintain attention long enough to get your point across. 
Something that might help? Social media integration.
Here's how:
-Give readers the ability to share your e-mail via social media = expand your reach
-INVITE them to share the e-mail
-Track who is sharing your e-mail = find out who the influencers are 
-Give them other options to connect with you, in case e-mail isn't their thing
-Try dedicating an entire e-mail to one social network 
-Include social media connect buttons in a prominent place
-Provide incentive for social media connection; offering an exclusive deal will attract all new sets of eyes to your social media platforms, and will encourage them to check the next e-mail for more offers
-Via SOCIAL MEDIA EXAMINER, another great tip:
Don't give up on your e-mail campaigns. Instead, try these new tactics & track your results. 
-Gabby, Editor of Source Media
---
The Wonders of Networking
As a business person, networking is essential to making important, fresh connections. Meeting people in completely different areas of business will likely help you just as much as those in your line of work. Making a good impression with someone and making an effort to remember them (and, more importantly, visa-versa) will undoubtedly lead to them spreading positive words about you. 
That positivity and any kind of recommendation will help you just as much as other types of marketing. 
Here is OUR spin on a few tips for turning ANY situation into a networking opportunity:
Start off right: Absolutely start off a conversation with a sign of recognition. Let them know you know who they are and appreciate/recognize what they are doing. If you're at a conference, make sure to shake the hand of some of the high-er ups and use this tactic to start a conversation if possible. Any bits of information about them you acknowledge will show them you are a savvy business person because you are aware of the other players in your field of work.
Key Takeaways:
-This is another reason why staying up on your news is crucial.
-At least do a quick Google search on your smart phone while the person is speaking.
-Click here for a great online business news resource.
Connect as quickly as possible: Interesting advice is offered in the article about trying not to make the conversation ALL about business. Don't take this too far, obviously. Nobody likes a nosey stranger. However, there is something to be said for straying away from the typical business-centered conversation they've likely already had 100 times that day. Asking a question or two and finding common ground on a personal level could be key to them remembering you & key to you finding a great piece of info you could use later to connect with them (They love golf? Invite them for a round with you and your business partner.)
Key Takeaways:
- Engage your listening skills. Everyone does, indeed, like to talk about themselves.
-Keep in mind the fine line between genuine/inquisitive and nosey. Don't overstep that line at of desperation. No piece of info is worth offending and jeopardizing a possible connection.
Mention your desire: If you aren't looking to work for this person, this point is irrelevant. But, either way, if you have something to ask them for a favor/additional connection you would like them to help you with… just ask. You only have so much time in this initial connection and don't know if you'll be seeing them again. 
Key takeaways:
-Like the article says, if you've done your job well, they will likely help you out and promise future communication.
-Again, listen first and talk about yourself second. Don't bore them with your life story or employment history. Save that for encounter #2.
Know your mission: Stay focused on your tactics and what you need to get accomplished. 
Key takeaways:
-Pay attention to cues they are giving you (their stance, eye contact, etc.), telling you whether or not they are comfortable with you. Remember that your goal is ultimately to make them feel comfortable enough to help you.
-Again, listening is key and normally a huge help for their comfort level.
See the big picture: The article offers fantastic advice here, saying no matter what your needs are at the time, continue to stay in touch with your connections. Just because they satisfied your immediate business need, does NOT mean you should let the relationship slide. "It's not what you know, but who you know." is, and always will be, true.
Key Takeaways:
-"You might meet influential people who really can't help you today; but that doesn't mean they won't be able to help you tomorrow."
-Always think of other connections and how they might be able to help each other. If you help others out, you are only expanding your network further and giving them a reason to help you later.
Happy networking!
 Gabby, Editor at Source Media
---