THE SECRETS to Pinterest's success
Pinterest. A startup wonder.
How did NYU's Ben Silbermann and Evan Sharp create such a success with this seemingly simple idea/venture?
According to Pinterest's FIRST investor, Brian Cohen, he attributes the startup's success to a few things:
1. Listening. Silbermann and Sharp were smart enough to listen and consult the advice and wisdom of their older and wiser investors. 
2. Happiness. Cohen observes that in everything I do, the two are always happy. He sees "almost a child-like fascination" in what they do. That's a new one.
Thoughts?
-Gabby, Editor at Source Media
---
FINALLY - A LinkedIn "Follow" button
LinkedIn "Follow" buttons are now available for company's to include on their websites. By choosing to follow the company on Linkedin, company updates will then automatically show up on their LinkedIn feeds. 
It's about time!
Read more, here. 
-Ryan, COO of Source Media
---
Pinterest & your business - step back
Pinterest - the latest social media buzz word. 
If you are a business person, trying to stay involved and up-to-date with social media, you may have been hearing about the new uber-popular site and wondering what it's all about. 
Pinterest is essentially a collection of online idea/inspiration boards. It's a bookmarking tool where users "pin" items they found online and think are particularly beautiful, unique or useful. The "pins" are displayed on their various boards, broken up into different categories for all of their followers to see. Some popular board categories are DIY, things for the home and favorite places. 
Pinterest is all about the visual. 
(You guessed it. The majority of users, at an overwhelming 97%, are women.)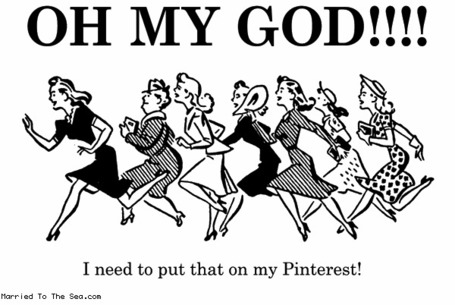 SO what if your business has nothing to do with DIY crafting, hip interior design or  vegeterian-friendly recipes…why should you care? Maybe Pinterest doesn't need your attention. BUT…
They hit the 10 million unique monthly visitors mark faster than ANY independent site in history.
Now, they're at nearly 12 million.
Daily users have increased more than 145% since the start of 2012 (TWO MONTHS, for those who need a little help with the math).
Side note: they've accomplished all of this with only a 12-person staff. Now that deserves a "hats off."
———-
SO. Maybe that info got your attention. But the point of this post is not to urge you to join Pinterest. The point of the post is to get you to take a look at this potentially lucrative platform and decide if it fits in with your company and its goals.
Take a look at Mashable's profile, below. They've got boards dedicated to "Tips and Tricks," "Web Humor" and "Infographics." Things that directly correlate to the purpose of the company that they can communicate in a visually appealing way. Things that consumers may find useful and interesting. 
For companies like Mashable, who seem to have a good handle on what Pinterest is all about, they're probably going to reap benefits from this. 
But, as I said before…don't get excited and create a profile just because Pinterest is pretty and popular. Think about this.
Do you sell tires? Don't join Pinterest and "pin" 524 images of tires and links to your website. No one on Pinterest is interested. Do you own a flower shop? Pinterest could be perfect for you to show off unique flower arrangements and aggregate different sources of advice for gardeners and flower lovers. 
Think Pinterest is for you? Click here, request an invite (yep, it's invitation only) OR login immediately with your Facebook or Twitter. 
Happy Pinning!
-Gabby, Editor at Source Media. 
---
Commentary: Bending the e-mail marketing rules
E-mail marketing is important. Maybe the "standard" rules you've been taught, aren't making you as successful as you could be. 
Sometimes, you just need to break the rules. 
#1 The Subject Line:
Industry standard: Reveal the e-mail content in the subject line. 
Think again: "Advice on how to be successful in sales" isn't necessarily very attention-grabbing, is it? But it's traditional. Our last holiday e-mail subject line was something like "What do Valentines Day and a blogging class have in common?" Something a little abstract might do a better job at attracting click- throughs. Try it. 
#2 Message Length, Timing & Frequency:
Industry standard: Keep messages short and to the point. Different studies involving different industries have different "ideal" times to send e-mails and how often. 
Think again: Sometimes your readers don't want overly-simplified information. Perhaps some information deserves more than a sentence. Test and measure this and see what works best for you - the same goes for timing and frequency. 
#3 Consistent Branding:
Industry standard: Consistency, consistency, consistency. Your audience needs to be able to recognize your brand. 
Think again: If your e-mail recipients keep seeing the same thing, over and over again (same type of subject line and same template) - you could be boring them to death and pushing them to ignore you and/or unsubscribe. Consider switching it up. 
This post inspired by an article by AWeber Communications. Click here to read more.
-Gabby, Editor at Source Media
---
INFOGRAPHIC: Flash Sales Triple Facebook Fan Interest
79% off Facebook fans EXPECT special deals.

---
---
Infographic: clueless brands
According to THIS article & infographic:
95% of wall posts are not answered by brands. 
Our advice - don't bother making a Facebook page if you aren't going to spend any time monitoring it. If a customer is ignored, they likely won't try to find information in other ways. They'll find a brand who will respond. 
-Gabby, Editor at Source Media
---
E-mail marketing slump - CURE
[E-mail is a fairly simple way of spreading news and promotions to your customers, especially if you don't have time for much else. But, is it even working? As far as you can tell, there hasn't been much tangible ROI. Some of your contacts are unsubscribing and others aren't even opening the e-mails. So how do you keep them interested? Or do you stop altogether?]

Don't let anyone tell you e-mail is dead. It's not. 
However, with the overflow of spam in your subscribers' inboxes, you need to work a little harder to grab and maintain attention long enough to get your point across. 
Something that might help? Social media integration.
Here's how:
-Give readers the ability to share your e-mail via social media = expand your reach
-INVITE them to share the e-mail
-Track who is sharing your e-mail = find out who the influencers are 
-Give them other options to connect with you, in case e-mail isn't their thing
-Try dedicating an entire e-mail to one social network 
-Include social media connect buttons in a prominent place
-Provide incentive for social media connection; offering an exclusive deal will attract all new sets of eyes to your social media platforms, and will encourage them to check the next e-mail for more offers
-Via SOCIAL MEDIA EXAMINER, another great tip:
Don't give up on your e-mail campaigns. Instead, try these new tactics & track your results. 
-Gabby, Editor of Source Media
---
Every Business Needs Their Own Website
By Tracy Lee Thomas President/CEO Rev Marketing 2U, Inc.



These days, websites are usually taken for granted. In fact, most small businesses do not have a significant Internet presence. It is imperative that your business not fall into the same trap. The following are some of the more important reasons why your business should have a website. Rev Marketing 2U can help deliver an effective website that addresses each of these issues.

Image

To be taken seriously, you simply must have one. Without a website, you are invisible to the generation that venerates the smart phone. No amount of traditional advertising will overcome the fact that they cannot find you on their smart device at the exact time that they need you.

Information Availability

People want fast, easy access to info about your company. Personalized customer service has gone the way of the dinosaur. Simply put, the new generation wants your information available at the touch of a few keystrokes.

Hands Off Marketing

In short, you are always available. Your office may be closed and your staff asleep but you are still actively engaged in the business of business. Customers can visit your site and make requests for proposals or leave their number for a call back in the morning. New clients bring new success!

FAQs

Answer the same question a few times and you can see the absolute need for this feature. Customers are not stupid and are willing to do a little legwork. Provide them with easy solutions to their most asked questions and you will readily build customer loyalty and respect.

Increased Sales

Make money in your sleep. Provide a reliable, secure Ecommerce site and you may wake up to a few extra sales every morning. In any event, your customers will value the ability to quickly and reliably procure your product or service at any time of the day or night.

The Hub

This aspect of website development is undoubtedly the most important. A company's website is the hub of any effective marketing campaign. Emails, blogs, viral campaigns and social marketing all feed into the same website. The same is true for tweets, YouTube, FaceBook and LinkedIn. All information leads to the central database and is organized and stored there.

The successful small business can only grow by developing, maintaining and data mining the information that is captured by their website database. This information is the lifeblood of sales growth. Not only does it fuel the expansion of your customer base, it provides the opportunity to up-sell products to your existing clientele.

Staffing

Your website can provide a window into the culture of your company. Motivated people will recognize this and approach you for employment. There is no better way to find talented applicants for any position in your company.

In the final analysis, only the business owner can decide what is best for his company. We, at Rev Marketing 2U, can only promise to listen to your needs and deliver an attractive, functional and cost effective solution to them.

Don't Delay !  This is a CALL TO ACTION that will change your Marketing Goals and online presence TODAY.  Call 757-580-9002 and get a FREE Marketing and Reputation Analysis. www.RevMarketing2U.com
---